Vacation properties in St. Moritz – Engadin
Between village and mountains
Our vacation properties in St. Moritz – Engadin benefit from a unique location. The fairytale character of the Swiss Alps is nowhere more beautiful than in the Engadine high valley. The numerous cultural offerings in St. Moritz are particularly popular, from music events and art exhibitions to culinary highlights from the region and around the world. The winter events from horse races on the lake, to bobsleigh, skeleton, cross-country marathon and FIS ski races can be easily visited from our vacation properties in St. Moritz – Engadin.
If you direct your gaze out of the village to the breathtaking mountain panorama, you will see snow-covered slopes and cloud-covered peaks, as well as a multitude of ski slopes and cross-country ski trails that crisscross the area. Finally, vacation properties in St. Moritz – Engadin are particularly popular with skiers and winter sports enthusiasts.
Discover our vacation properties
in St. Moritz - Engadin
Top equipment and loving furnishings are characteristic of our vacation properties. See for yourself and discover our exclusive selection in St. Moritz.
The furnishing of our vacation properties in St. Moritz – Engadin captivates with rustic charm as well as modern equipment that leaves nothing to be desired. Some special highlights in the accommodations will make your vacations in Engadin an experience that will stay in your memory for a long time. In principle, each of our accommodations includes a fondue or a raclette. This way you can experience a piece of Swiss culture directly in your vacation home.
Vacation properties in St. Moritz – Engadin are super suitable for a cozy evening in the round, because in many accommodations you can sit in front of the fireplace with friends or families and listen to the crackling fire. Depending on the accommodation can accommodate up to 8 people. Also, most of the objects have a balcony or a covered terrace. Here, breakfast tastes twice as good and the view of the surrounding mountain landscape makes you want to spend an adventurous vacation day. Or are you more the type for wellness and relaxation? Then a vacation accommodation with a luxurious bathtub is just right for you. Here you can relax in the hot bath water in the evening and leave the cold winter air outside.
Your vacation property in St. Moritz - Engadin
St. Moritz – Engadin is the perfect environment for your vacations. The vacation properties in our selection offer you modern and cozy furnishings as well as good connections to shopping facilities and public transport. There is no shopping stress during the vacations here, the nearest supermarket is only a few minutes away by car. Here you will find everything you need for a relaxing evening with family or friends – drinks, snacks or ingredients to cook together. Shopping opportunities are also abundant in St. Moritz – Engadin. All major shopping centers such as Migros, COOPO, Aldi and Lidl are present.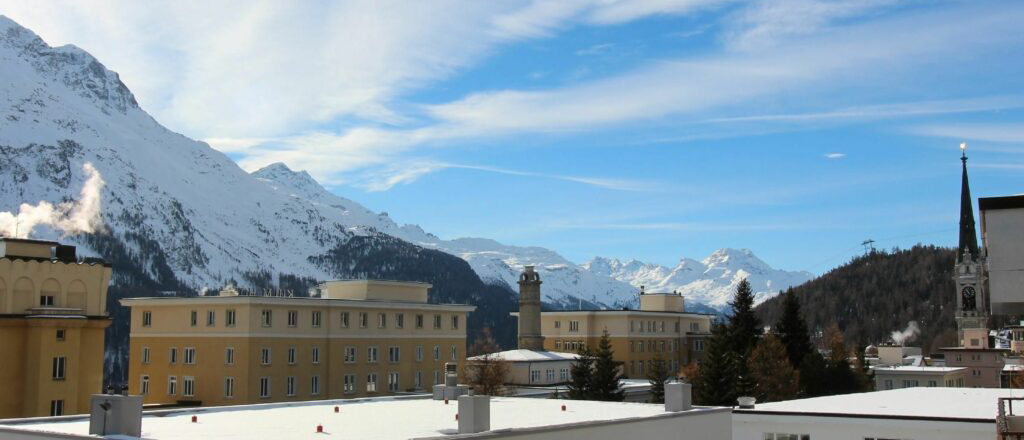 Thanks to the numerous transport connections, you have the opportunity to make day trips to the surrounding towns such as Silvaplana, Sils, Maloja, Pontresina or Samedan and discover the Engadine from every angle. Also the many ski resorts are easily accessible from the vacation properties in St. Moritz – Engadin and offer plenty of space for adventurous vacations. Experience the Engadine mountains from skis or snowboard. Whether you choose the fast-paced downhill ride or prefer to take a relaxed cross-country tour and enjoy nature – the possibilities are endless.
Exciting vacations in St. Moritz - Engadine
Besides skiing and cross-country skiing, you can start from your vacation property in St. Moritz – Engadin to many other adventures and activities. Discovering the mountain world on foot is an absolute highlight, both for walking and hiking. Guided hiking tours are especially recommended to get some insider knowledge and exciting facts about the Engadine. If you want to go high up, there are several possibilities for climbing tours in the high mountains or wild mountain bike trails through the magnificent landscape. St. Moritz – Engadin is also a mountain bike trail mecca. In addition to leisurely natural trails, there are also challenging mountain bike trails.
If you prefer to be in the water instead of on foot, you can take a dip in the cool waters of the small mountain lakes during the summer months. In the winter months, these are frozen over and you can indulge in leisurely walks on the lakes. As an alternative, there are modern indoor pools with slides, where even the little ones can experience their bathing fun.
Most popular destinations in Engadin
Classy, elegant and luxurious
A perfect starting point for all hikers, bikers, cross-country skiers and skiers
An Eldorado for discoverers and connoisseurs
Authentic and traditional